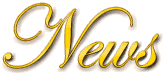 Learn what is happening at Sovereign Farm...

Website update in progress...
May 18, 2019: After many years the website is finally being updated with current broodmares, performance results and additional Sovereign Farm bred Trakehners. Please be patient as the updating is going to be a large project. There are many pages to update with information and photos. In the meantime, a few highlights from the past several years are listed below!
Award winning performances by Sovereign Farm Alumni!
July 23, 2010: The weekend of July 10-11 was a busy one for owners of Sovereign Farm bred horses. Paladin, aka PJ, and his owner, Laine, had a fabulous show including a win in his first under saddle class! Paladin is a 3 year old gelding by Aul Magic, out of Padua by EH Maizauber. Laine and PJ attended the SAAHA Sport Horse Summer Fun show in Tucson, Arizona. The pair won the first class, Open Half-Arabian Sport Horse Geldings In-Hand 3, 4, and 5 Year Olds with an impressive 81.2%. They went on to be Champion of the open division, competing against all ages of Half-Arabian Geldings. They were 2nd in the Amateur to Handle Half-Arabian Sport Horse Geldings In-Hand 3, 4 and 5 Year Olds with a 75.2%. This time they took Reserve Champion against all ages of Half-Arabians Geldings in the Amateur to Handle division. The under saddle class was an open class, with trainers and amateurs alike showing. It was for horses 5 years and younger, with PJ being the youngest in the class of 6 or 7. They won this class and went on to a Reserve Championship in the Half-Arabian Sport Horse Under Saddle Junior Horse Championships. Congratulations Laine and PJ! All of your hard work has paid off. We look forward to hearing about your future successes!
photo by Adam Sklar
Santiago and Kailee Surplus also had a great weekend July 10-11 showing in Burbank, CA. The pair attended the LA Chapter Summer Dressage show with exceptional results. They earned 1st place in Training Level Test 2 with a 70.714%, 1st place in Training Level Test 4 with a 72%, 1st place in First Level Test 2 with a 69.722% and 5th place in First Level Test 4 with a 67.8%. They are well on their way to a great showing in the ATA Dressage Futurity! Congratulations to Kailee and Santiago!
Congratulations Again!
July 13, 2010: I am very excited to announce that Valkyree has found a wonderful performance home in IL! Valkyree is a very talented dressage mare by the incomparable German stallion Kostolany, out of Victree by Kaspareit. Valkyree will be making her new home with JoAnne Brinkman at her beautiful facility, Twelve Oaks Farm. Good luck JoAnne and Valkyree!
Congratulations!
June 21, 2010: Congratulations to Pam B. of Manchester, ME on her purchase of Vigo! Vigo is an impressive 3 year old gelding by Oskar, out of Victree by Kaspareit. Vigo has the same wonderful temperament as his dam and all of her offpsring. Good luck Pam and we can't wait for pictures!
Update
June 1, 2010: We would like to congratulate Kara and Talara on their new partnership. Kara is currently leasing Talara and we think they make a perfect match! Talara is being started under saddle so check back for photos soon.
Several pages on the website have been updated including Valkyree, Vigo, Kanye and Kalua with links to new video on YouTube. Check their individual pages for links (normally listed at the bottom of the text) or check out the Sovereign Farm YouTube page.
Many pages have also been updated with more recent photos, especially the Sales horses. Horses with updated photos include Valkyree, Vigo, Solana and Hallie. We have new webpages for the 2009 foals Honora (by Apollo Sun), Pompeii (by Sonset's Sieger) and our 2010 colt Cazador (by Tradition *Pb*). We will continue working to get new photos and videos in the next few weeks. If you see a horse that you'd like updated photos or video of, drop a line and we'll put them next on the list!
Website update including new photos and links to new videos
May 29, 2010: The website is currently being updated to include new sales horses, new photos of many horses and links to updated videos. Work should be completed by June 2 so check back for updated info! In the meantime, here is a link to our 2010 foal, Cazador. He is a gorgeous colt by the successful eventing stallion Tradition *Pb*, out of Cara Bella by Buddenbrock. This handsome guy is available for $8,000.
Congratulations to Kailee Surplus and KS Equestrian!
March 12, 2010: Our trainer, Kailee Surplus, is now the proud owner of Santiago SF! Santiago was foaled in 2005 and is by the famous German Trakehner stallion Kostolany, out of one of our favorite broodmares, Sidney. Kailee has worked with Santiago from the beginning of his career and has done a tremendous job with him. The pair debuted in dressage last year and earned some impressive scores and placings, including a Reserve Champion at the 2009 Del Mar International in the Four Year Old USEF test. They are busy gearing up for this year's show season and will start it off next week in Tucson, AZ. Check back for results from their first show of the season!
New videos!
March 12, 2010: We have added a selection of new videos over the past few months to our YouTube page. Video of Vigo from January 2010 can be found HERE! Vigo is a very handsome, leggy gelding by the Grand Prix dressage stallion Oskar, out of Victree by Kaspareit. Vigo shows strong potential to be a world-class dressage star and is ready to be backed. Priced unstarted at $10,000. Price will increase when he is under saddle.
Congratulations Cindy!
October 13, 2009: A huge congratulations to Cindy on her purchase of Kildare! Kildare has come along beautifully in his training and is schooling second level movements. We look forward to hearing about his continuing training and dressage career! Good luck!
Three new videos!
August 14, 2009: Added three new videos to our collection on YouTube. Kanye's video is HERE. Vinnie's video can be found HERE. Both boys were just shy of 3 months in this footage. Kanye is priced to sell at $7,000 pre-weaning. Vinnie is available for $6,000. Both boys are lovely movers and have great personalities!
I also put together some footage of Heretic from when she got here last spring. This was taken in March 2008 and can be found HERE! Heretic is the dam of our only filly this year, Honora. Honora is a lovely filly by the approved Trakehner stallion Apollo Sun. Honora is available for $7,000.
Congratulations to European Connection!
August 8, 2009: Congratulations to Albert, Vanessa and European Connection from Fenton, Michigan on their purchase of the 2004 Trakehner gelding Soprano! Soprano is by Feuertänzer, out of Sidney by Schubert.
New under saddle footage posted on YouTube
July 27, 2009: New video of Kildare can be found on YouTube HERE! We also have new under saddle footage of Kairro that can be found HERE! It has been fun to see the two maternal brothers as they progress under saddle. For those of you looking for a great deal on a green broke youngster, check out Kairro. He is uncomplicated and coming along quite nicely.
A rare opportunity for aspiring breeders!
July, 2009: We are phasing down our breeding program and offering several of our good broodmares for sale at reasonable prices. Good homes are a must for these special girls where we feel they will be used to their potential. Among those offered are Kalua and Sidney. We also have several VERY special young fillies that are well suited for sport and future breeding. Some of those now offered are Carmine, Regan, Reflexion, Hallie and Phailin. If you see others on our site that you are interested in, don't hesitate to call or email!
Congratulations to Coronado Ranch!
May 9, 2009: Congratulations to Coronado Ranch on their purchase of Marion! Good luck and we wish you much success in the dressage ring!
We finally had a filly!
May 2, 2009: Perhaps "we" didn't have a filly, but Heretic did! She was the best of mares and presented us with a stunning filly by Apollo Sun at 7:30 this evening. Heretic is an exceptionally good mother and very tolerant of us humans hanging around. Photos coming soon!
Congratulations!
May 1, 2009: Congratulations to Katie of Kansas on her new Trakehner, Linnea! We wish you the best of luck with this sweet mare! Linnea will be headed to Kansas at the end of May.
Congratulations also to Deanna and Richard on the purchase of their first Trakehner, Tejon. We are very excited to see Tejon as he continues with his under saddle training!
Show results!
May 1, 2009: Our trainer, Kailee Surplus has been busy this spring, taking horses and students to several shows. She and Santiago have started their show career with tremendous success. After a successful schooling show in February, the pair attended their first recognized competition March 14. The highlight of the show was a 69.8 in the USEF Four Year Old Test. At the end of April, for his second recognized show, Santiago made the trek to California for the prestigious Del Mar National. Santiago and Kailee earned an impressive 77.8% and Reserve Champion in the USEF Four Year Old Test! What a huge accomplishment for the pair after such limited showing. In addition to the great score and placing, the judges offered positive and encouraging comments on the high quality of horse and training!
Kildare had another successful outing on March 12. He attended his second schooling show where he scored a 61.3% at Training Level Test 1 and a 68.9% at Training Level Test 2. Kildare is doing quite well under saddle and consistently scores 8's on his movement!
A colt by Sonset's Sieger!
April 25, 2009: Padua foaled a chestnut going grey colt by the outstanding Trakehner stallion Sonset's Sieger at 1:30 this morning. Though I was hoping for a filly, I'm not disappointed by the obvious quality of this handsome guy. He will be offered for sale! Photos coming soon.
New Aul Magic colt!
March 31, 2009: At 3:45 this morning, Vixxen foaled a large colt by the ATA approved Arabian stallion Aul Magic. The new addition is chestnut and very flashy with a big blaze and 3 white legs. We expect great movement from this guy! This colt is for sale! Photos coming soon.
New Videos and Sales Horses!
March 28, 2009: The Sovereign Farm bred filly, Talara, by Bel Espace Go, was added to our sales list for her owner. She has grown into a gorgeous young mare and is approaching her 3rd birthday. She is ready to be started under saddle and is available for $12,000. VIDEO is now up on YouTube.
Solana, also by the successful German Trakehner jumping stallion Bel Espace Go, has current VIDEO up on YouTube. VIDEO of Phailin is also up. Phailin is by the ATA approved Arabian stallion Aul Magic and shows great promise as a riding horse and future broodmare. Though not listed for sale, offers would be considered for her purchase.
New EH Lendorff's colt!
March 22, 2009: Kalua delivered a beautiful colt by the Elite German stallion Lehndorff's last night at 9:45. Both mom and baby are doing well. This colt is a full sibling to the 2007 filly Kenya! This exciting colt is for sale!
Hallie and Marion videos
March 17, 2009: Videos of both fillies are now up on YouTube. Both girls were foaled in 2007 and are by the ATA approved Arabian stallion Aul Magic. Hallie is out of the imported Matador daughter Himmlische and her video can be found HERE. Marion is out of the Vincent daughter Marcella and her video is HERE!
Additional videos
February 24, 2009: We have added video of Reflexion to YouTube. You can see her video HERE! There is also video of Vigo that can be found HERE! Valkyree is doing exceptionally well under saddle. Video of her under saddle can be found HERE! This is her 15th ride in the arena and we are thrilled with her calm and willing attitude. She has shown herself to be a remarkably uncomplicated girl!
New foals starting mid-March
Our broodmares are due to foal starting mid-March through the end of April. To see a list of our expected crosses, see our Foals page. Last spring we added a wonderful new mare to our herd, Heretic, by Kantor II out of Heritance by Habicht. Heretic is in foal to the Trakehner stallion Apollo Sun for 2009.
Schooling show news!
February 2008: A huge congratulations to trainer Kailee Surplus and homebred gelding Santiago on their first outing! The pair went to their first schooling dressage show and did extremely well. They earned a first place at Training Level Test 1 with an impressive 72.1%. This was the highest score for the test, all divisions and 15 other rides. For Training Level Test 2, the pair earned second place with a 68.5%. This was Santiago's first show and he impressed us all with his calm, willing attitude!
Sovereign Farm Alumni Madira also attended the schooling show and did quite well! Once the scores are online I can report those here.
Congratulations to Laine!!
November 2008: Congratulations to Laine of Tucson, Arizona on her purchase of the talented gelding Paladin! Good luck on your dressage career and in-hand career!!
More Video
November 11, 2008: Tejon has new photos on his page as well as video now available on YouTube.
Updated photos
November 2008: We will be updating photos of many of the youngsters here at Sovereign Farm over the next few weeks. Check back often to see who has new mug shots! Hallie was the first victim on our list! Have a request? Want to see new photos of someone in particular? Send us an email!
New Videos
October 29, 2008: Our three-year-old Leonidas son, Kairro, now has video up on YouTube. We also have updated video of Kildare. Kildare's new video can be found here. He is progressing steadily in his training and will be in his first dressage schooling show mid-November.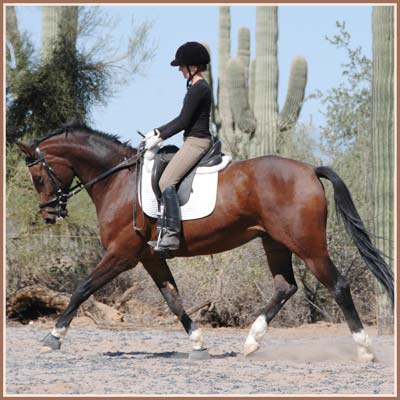 Congratulations to Sherry and Pagan!!
August 2008: Congratulations to Sherry and good luck on your new journey! We are confident that Pagan has found the perfect home!
Congratulations to Hilary!!
August 9, 2008: Congratulations to Hilary Haseley of Scottsdale, Arizona on her purchase of the beautiful filly Rowan! Good luck and I can't wait for updates!!
Updates
July 22, 2008: Bombay has started jumping on the tutelage of trainer Kailee Surplus. Bombay has shown to be quite adept at his new job. Video of Bombay jumping can be found HERE!
Video of Soprano is now available online HERE!
Welcome!
We would like to welcome trainer Kailee Surplus of KS Equestrian and all of her students to our facilites. Kailee will now be training full-time out of Sovereign Farm! With all of the horses at one place, Kailee is now available for additional lessons and has limited spaces for horses in training. Sovereign Farm offers full care board including group turnout in spacious 5 acre pastures. Contact the farm or Kailee today to set up an appointment to view the facilities or see Kailee's training in person!
Even more congratulations!
July 14, 2008: Congratulations to Liz on her purchase of Zane!! Wishing you the best of luck in both open and half-Arabian competition! Zane will be leaving for his new home within a week! See Zane's video here.
More videos now online!!
July 3, 2008: Video of Horatio under saddle is now available and can be found HERE! Kildare has been under saddle with Kailee for 2 months now and is coming along beautifully. Video can be seen HERE! Great job Kailee!
Video of Pagan now available
June 29, 2008: Video of Pagan is now available and can be found HERE! This video was taken early 2008, ridden by Kailee Surplus. She is a good all-around horse for riding/pleasure or breeding. All offers considered.
Congratulations!!
May 27, 2008: Congratulations to Jayne Smith of NJ on her purchase of the athletic gelding Monarch! Monarch is a beautiful chestnut with uphill, expressive movement. Good luck Jayne and Monarch!!
Word reached us June 29 that Monarch has arrived in NJ safely!
Horatio's second recognized show!
May 20, 2008: Horatio attended his second rated show with trainer Kailee Surplus on May 17-18. The pair did an excellent job with consistent scores and great placings against tough competition. They earned second place with 66.09% at Training 1, first place with 66.4% at Training 2, first place with 66.07% at Training 3 and fourth place with 62.0% at Training 4! Congratulations on a job well done!
Updated photos and another new sales horse
May 14, 2008: New photos of Rowan are up on her page. She is now 3 and ready to be started at any time. Her sire, Incantare, has been competing successfully at Preliminary level Eventing this spring.
Zane was added to our sales page. He is by the ATA approved Arabian stallion Aul Magic, out of Zierlichkut by Schoenfeld. This yearling is very fancy, bay with 4 whites, and going to be a big boy! Video of Zane can be found here!
New sales horse added
The beautiful 2006 colt Zander by Aul Magic ox, out of Zierlichkut by Schoenfeld was added to the Sales List. This colt is a good stallion prospect with strong conformation and big, supple gaits. Video is available here! Video of Zane, his full brother from 2007 can be found here!
Our last foal of 2008 is here!
April 28, 2008: Our third and last foal was born! Cara Bella had a stunning chestnut filly, Carmine, by the German Trakehner stallion Tolstoi! This filly is truly exceptional and looks to be one of the best we've had! This exciting prospect is a full sister to the 2007 colt, Colstoi.
Another chestnut filly!
April 17, 2008: Reika delivered a large chestnut filly by the Elite stallion Lehndorff's! Regan is a full sister to Reika's filly from last year, Reflexion. We expect the same great movement from this chestnut beauty in a more elegant, typey package!
Our first foal of 2008 is here!
April 15, 2008: Sidney foaled a leggy chestnut filly by Oskar II. Scarlet is an outstanding filly that gets better and better with each passing day! She has beautiful conformation and a very bold personality.
New Videos!
April 4, 2008: We will be adding short videos of our sales horses on YouTube over the next couple of months. When available, links will be provided. Video of Monarch, video of Bombay and video of Phantast are currently available. We will also be updating sales horse photos and adding new sales horses. Check back soon for new videos!
Congratulations!
March 2008: Persephone will be moving to a wonderful new home in California! Congratulations to Alexys Wilson on the purchase of Persephone! Good luck!
Congratulations!
March 10, 2008: Congratulations to Pam Bennington on the purchase of Madira! Madira is a lovely young mare by the Trakehner stallion Heling, out of Marcella by Vincent. Good luck Pam and Madira! We're looking forward to following your dressage career!
Santiago back home!
March 2008: Sovereign Farm's stallion prospect Santiago by Kostolany is back home after being started under saddle by Brad Dirla. He is starting dressage training with Kailee Surplus this month. Kildare is now being started under saddle and will be back home next month for further dressage training!
Kailee and Horatio will attend their second schooling show at the beginning of March and their first recognized show at the end of the month.
A huge congratulations and thank you!
February 10, 2008: Thank you Kailee for doing such a great job with our horses! Congrats on a great showing with Horatio, I know it will be the first of many! Kailee and Horatio earned a 1st and 2nd place at their first dressage schooling show. Later this year the pair will be showing at recognized shows.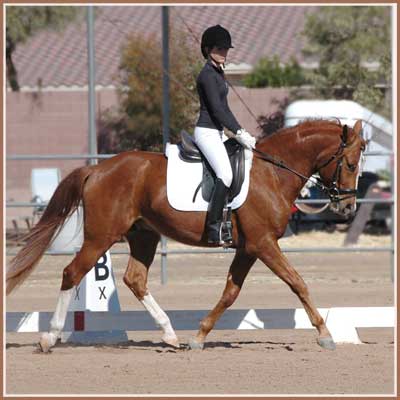 A busy start to the new year!
January 2008: The start of the new year was a very busy one around Sovereign Farm! Calais went to her new home in CO! Roberta reports that she is being a very good girl in her new home. I just wish I could be there for the first time Calais sees a white world of fresh snow!
Horatio, Madira and Pagan continue to do well under saddle with Kailee. Horatio is scheduled to go to his first under saddle schooling show the second weekend in February. Madira will make her debut later this spring!
We are continuing improvements around the farm, slowly but surely! Last summer we finally had pasture for the mares and foals. Ten acres of grass are currently fenced with plans for more before this summer. A new block entrance to the farm is nearly finished. We are only waiting for our farm sign to finish that project! Anyone wanting to visit the farm, please email or call me... we love to have visitors!!
Good luck!
December 2007: Good luck to Judy and her new filly Kenya! Kenya will be traveling to her new home within a few months. Congrats Judy!
More congratulations!
November 2007: Congratulations to Cindy Brown on the purchase of Paramoure. Paramoure is already at his new home enjoying trail rides and his new family!
Congratulations!
October 2007: Congratulations to Roberta on the purchase of the 2006 filly Calais!! In early December, Calais will be joining her new family in CO! Good luck Roberta and Calais!
A hearty welcome!
We would like to welcome local dressage trainer Kailee Surplus to Sovereign Farm. She began working with several horses here at the beginning of August and we are already very pleased with both her handling and riding of the young ones! She will be working with Horatio, Madira, Bombay and Rhapsodiva. New photos will be posted as they become available! Check out Horatio's second ride with Kailee!
Horatio started under saddle!
At the beginning of July Horatio was started under saddle by Brad Dirla! Madira and Bombay came home and are starting with a local dressage trainer in mid-July. Both Madira and Bombay did well for their initial under saddle training and are quietly walk/trot/canter... perfect for the next phase of their training!
Madira and Bombay off to school!
On June 1st, both Madira and Bombay start under saddle with local trainer Brad Dirla. Brad has started a number of our young horses and does a superb job! Check their pages mid-June for new photos and updates!
A long-awaited filly!
May 10: Himmlische finally foaled at 373 days gestation. She had a beautiful chestnut filly by Aul Magic... the one we've been trying to get for the past 5 years! It was a great last foal for this outstanding mare before her retirement to green pastures!
Another Aul Magic filly!
May 7: A few hours after Sidney foaled, Persephone presented us with a flashy chestnut filly by Aul Magic!
First Summertime foal at Sovereign Farm!
May 6: At 11:00 pm Sidney delivered a bay (and so far it looks like he'll stay that way!) colt by Summertime!
Aul Magic foal number two!
April 30: Marcella presented us with a beautiful bay filly by Aul Magic. The filly is a welcome addition and Marcella's last foal before retirement.
Another colt!
April 21: Padua had a gorgeous colt by the ATA approved Arabian stallion Aul Magic! See the Foals page for photos of our newest additions!
Oskar colt!
April 17: A leggy Oskar colt was delivered by one of my favorite mares! Victree and her handsome foal, Vigo, are doing great!
Cara Bella delivered a Tolstoi colt!
March 15: Cara Bella foaled a gorgeous colt by the German Trakehner stallion Tolstoi. Congratulations to owner/breeder Brad Kerbs on this outstanding cross!
EH Lehndorff's filly number two!
February 20: After 319 days gestation, Kalua had a typey dark bay filly by EH Lehndorff's.
Our first foal of 2007 arrived!
February 15: Reika xx delivered an adorable dark bay filly by the Elite Stallion Lehndorff's. Both mom and filly are doing well! We are expecting the next foal, another by Lehndorff's, any day. For a photo of the new addition and a complete line up expected foals, see our foals of 2007 page.
Congratulations to Terri Yates and Hugo!
This past November, Hugo attended his first recognized dressage show, winning all three of his classes! Hugo is a 2003 Sovereign Farm alumni and full brother to Horatio. Congratulations to Hugo, his owner Terry Yates, and trainer/rider Cyndi Jackson for a job well done!
2006 Year-End Awards
Homebred colt, Horatio, ended the show season in First place with USDF in the Two-Year-Old Colt/Gelding division. His accomplishments also earned him the ATA Champion Two-Year-Old Colt/Gelding award!
Foals of 2007
August 30: After a successful breeding season, Sovereign Farm is expecting a total of 9 foals next spring! For a list of what we are expecting, see the foals of 2007 page. The first foal is due mid-February with the majority of them due in April.
Dressage Among Friends at Paradise Farms
August 20: Our last show of the season was another great success! Horatio won his class with an 80.3% and was the Champion Colt, once again qualifying for the West Coast Finals.
Another big congratulations!
July 31: After a long search, Jeannine Neubauer found her next partner in the 2006 filly Kapri!! Congratulations to Jeannine on her new addition!
Creek Hollow Ranch July Jubilee
July 14: Horatio attended his second USDF Breeder's Championship Series Show and won his Two-Year-Old Colt/Gelding class with a 77.6%! He was also Reserve Champion Colt at the show.
Congratulations!
June 27: Congratulations to Michelle Hirsch on the purchase of Talara!! We wish Michelle all the best on her new journey!
Horatio's First Open Show
June 25: Our homebred colt Horatio attended his first USDF Breeders Championship show. He won his 2 year old colt class with a 73% and was the Champion Colt, qualifying for the West Coast Finals. We were especially pleased with the judge's comment that he had the best trot of the day. In May, we took Horatio to an Arabian Sport Horse show where he won his class with an 80.5% from a well-qualified dressage judge.
Congratulations to Rita Haas, her filly Libbie (by Feuertänzer) won the 3 year old filly class. She also qualified for the West Coast Finals with a Third in the Filly Championship.

Always something new to report from...