Our last foal of 2008 is here!

We are expecting foals in 2009 from the following crosses:
Vixxen (Kaspareit - Pregelstrand) by Aul Magic ox
Kalua (Heling - Amadeus) by E.H. Lehndorff's
Padua Go (E.H. Maizauber - Belluno) by Sonset Sieger
Heretic (Kantor II - Habicht) by Apollo Sun
Many of our foals and youngsters are offered for sale. Ask about special in-utero pricing and custom breedings!

We are finished for the year! We are very pleased to introduce the newest members of our herd....
Our last foal of the year was another chestnut filly! Cara Bella (Buddenbrock - E.H. Mackensen) foaled a beautiful filly, Carmine, on April 28 at 10:30 pm. The new addition is very typey with a strong conformation. She is a full sibling to Cara Bella's colt from last year, Colstoi.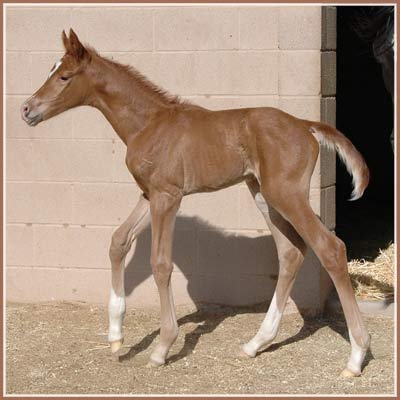 Reika xx (Golden Act xx - Noble Decree xx) delivered a large chestnut filly two days later on April 17th... also at 4:00 am!!! Regan is a full sibling to Reika's 2007 filly Reflexion.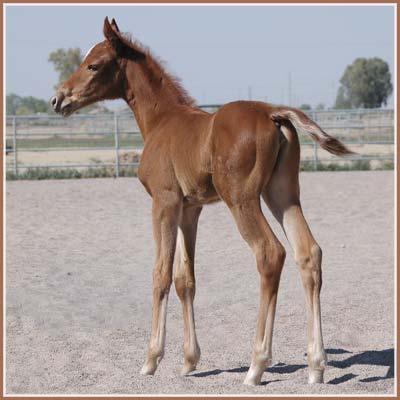 At 4:00 am on April 15, Sidney (Schubert - Gladwin xx) foaled a leggy chestnut filly by Oskar II! This Scarlet is friendly and bold with an adorable personality!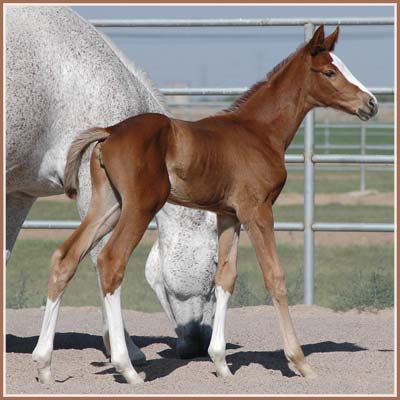 Please follow these links or check the sitemap to find a complete list of our 2007 foals, 2006 foals and 2005 foals.
Many of our foals and youngsters are offered for sale.

There's someONE new under the sun at...