Paramoure sires expressive foals with excellent sport horse type and solid dispositions. His offspring inherit his kind eye, strong topline, powerful hindquarters, and nobility. He is an excellent cross for warmblood mares, as well as Thoroughbred, Arabian and other light breeds.
Proof of a stallion's quality are his progeny, and we are pleased to share these photos of some of Paramoure's babies.
Sayre
2002 Trakehner colt
out of Sidney by Schubert
Bred by Sovereign Farm,
owned by Jan Mason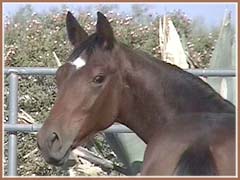 Perrier Jouet
2003 Trakehner gelding
out of Algebraica xx by Hard Cash xx
Bred and owned by Laurel Morris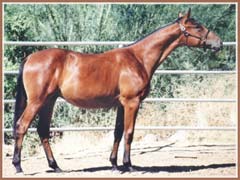 Henna Gold
2004 Trakehner filly
out of Hope Springs Eternal by Martini
Bred and owned by Donna Bredbenner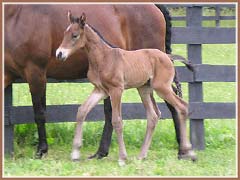 Photo Donna Bredbenner
Pippen ("Frodo")
2003 Anglo-Trakehner gelding
out of Cute as a Bug's Ear by Isella
Bred and owned by Amy McGrady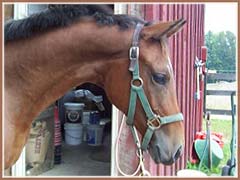 Photo Amy McGrady
Dantae
2003 Trakehner colt
out of Dahlia by Topas
Bred and owned by Terri Sikora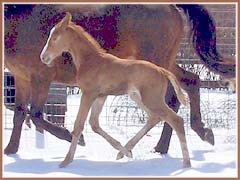 Photo Terri Sikora
Zolei
2003 Trakehner filly
out of Zierlichkut by Schönfeld
Bred by Aerron Smith,
owned by Jan Mason
Fortitude
2003 Trakehner colt
out of Freedom's Fire by Pregelstrand
Bred by Deborah Hall,
Owned by Angel Hoskins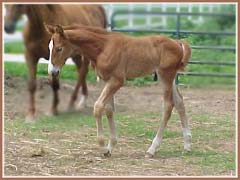 Photo Deborah Hall
Bonnfire
2004 Trakehner colt
out of Bering Basket xx (PSB) by Basket Weave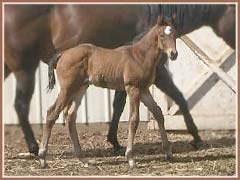 Photo Darleen Vaterlaus
We love to hear from the owners of Paramoure's babies about our "grandkids"!
"Charley is already the best horse I have ever had. Your stallion was an excellent cross with my mare. I hope that I can capture his exquisite looks with a camera. He really is my dream horse."

— Lynn Collins Seaba
Goldfield, Iowa
"Frodo has GREAT bone and it is hard to believe that he is half TB, and will have gained height from Paramoure, when all is said and done. At this point, he is 22 months and 15.3h at the withers and 16h at the croup. He has a very laid back easy going personality. His mom can be somewhat high strung on occasion (though never nasty to deal with, just hyper), but Frodo is very level headed. He has a fabulous mind and is wonderful to work with. My vet and other professionals who have worked with Frodo in the past two years have all said that he is going to be "easy" to start under saddle when the time comes. My vet loves my boy and thinks I have done a wonderful job with him, this is a very special compliment as my vet is a Thoroughbred person, and very much NOT a warmblood person. He has also said that Frodo is "very correct" in his legs and has great feet. Frodo's over-all build takes after Paramoure, he definitely stamped Frodo with a nice shoulder and neck, uphill build and over-all correctness. Frodo's walk is WONDERFUL, his trot is uphill and has a lot of suspension and his canter is also uphill and balanced. I also have to mention, Frodo has the most LOVELY head I have seen in a long time, aside from his mother's, and a wonderful eye. I couldn't be happier with this boy. He is very affectionate and sweet and a dream come true for me."

— Amy McGrady
Millersville, Maryland
An opportunity available only at...